NEWS
Meet and GreeT
A Meet and Greet was held on Tuesday, April 23, 2019 from 5:30 to 7:00 p.m. at La Bellasara (464) GGP. About 50 GGP residents joined neighbors poolside. The weather was ideal, and the view of the Marina was striking. Entertainment was provided by Siesta John. Our thanks to the Board and our neighbors at La Bellasara for their hospitality.
GGPA BOARD MEETING SCHEDULE
GGPA Next Board Meetings have been scheduled for the second Tuesday of each month at Alta Mer (306):
May 14, 2019
June 11, 2019
Any GGPA members who are interested in attending, if you can, please reply to goldengatepointassociation @gmail.com so tht we can have enough chairs available. If you decide last minute you can attend, you're welcome.
GGPA ANNUAL MEMBERSHIP MEETING
The Annual Meeting of the membership of the GGPA was held on Saturday, February 9, 2019 at 9:30 a.m. at Bird Key Yacht Club. Judy Mower (464) , Lisa Sebastian (495) and Cindy Taliaferro (205) were elected to three years terms on the Board of Directors. Other board members include Candria Crisp, Stephie Fleming and Joan Lovell, and Denise Watermeier.
Claudia Porter devoted nine years of tireless service on the Board of Directors. Her term ended and she decided to step off the Board. She was thanked for her many years of service to Golden Gate Point and our streetscape. We are glad that Claudia will continue to be part of our streetscape team.
Dr. Angela Collins, of the Florida Sea Grant Program spoke about Red Tide.
FINANCIAL SUMMARY OF GGP - CITY BUDGET
Sarasota CFO Kelly Strickland provided an updated presentation regarding Golden Gate Point's finances. It shows fiscal year 2017-2018, as well as budgeted amounts for the fiscal year 2018-2019. You can read it by clicking here.
GGPA NEWSLETTERS
GGPA Members can sign up to receive monthly emails containing news about what's affecting Golden Gate Point and our vicinity.
Members who have not received email, or would like to read them again, can access the emails on the Member Login page. If you are a member and need the login information, please email goldengatepointassociation@gmail.com
You will find monthly news about zoning, red tide, the Lido Beach Pavilion, Evolution and other developments, landscaping, and many more subjects.
Better yet, if you are a GGPA member, and would like to be on the email list, please contact goldengatepointassocaition@gmail.com
GETTING TO KNOW SARASOTA
If you've just moved to Sarasota and Golden Gate Point and are looking for ways to meet people and learn about your new community, then becoming a member of GGPA was a good first step. You'll make friends and learn a lot just by participating in GGPA activities. Whether you're new to Sarasota or a long-timer, perhaps there's more you'd like to know about how things work, who does what, where you might like to volunteer, which charities to support, how to learn about local issues – in short, how to become a full participant in community life. To help you get started, here's a list of organizations and links to their web sites.
Sarasota Newcomers Club: To quote the website, "SNC is geared for people new in town to meet others and have fun!". Membership is open to full-time residents of Sarasota who have been here three years or less. Dues are $150 for individuals or $240 for a couple, for three years of membership. It's an all-volunteer organization and members are called upon to help in various ways – hosting gatherings, arranging group outings, etc. As you'll see when you visit the site, there are lots of special interest groups open to 'graduates' who want to continue their connection with SNC and each other. Find out more by clicking here.




Meetup Sarasota: On this site you will find links to just about every kind of club or group you can imagine. There are groups for walkers, hikers, bikers, kayakers, singles, film fans, bird watchers, and on and on – there's even a ukulele club. Each club portal lists its own contact information and membership requirements. Find out more by clicking here.
Engage Sarasota: Sarasota's Chamber of Commerce website describes Engage Sarasota as "a community orientation program for executives and residents who are eager to establish business and civic relationships, meet area leaders, and want to fast-track their knowledge about the inner working of Greater Sarasota – all with a minimum investment of time and money". Essentially it is a first-Monday-of-every-month series of luncheons with speakers, for a class of up to 50 people. Considering that lunch is included, the $194 cost is very reasonable. Registration will open in July for a September start and the class fills fast. If you're a Facebook user, "like" the Chamber to get early notice and learn more. Find out more by clicking here.
Sarasota City's Citizen's Academy: Sarasota City Government offers an 8-week educational course, free of charge, for a class of up to 25 participants who meet on Thursdays from 5:30-8 PM at various locations to learn how city government operates. You can see the topics covered by clicking here. Applications for the class about to start this month closed in December, but you can call 941-954-2612 to see if there's still room and to learn when the next class will start. Find out more by clicking here.
Sarasota County's Civics 101: Sarasota County has its own version of a multi-week educational course, also free of charge, also meeting on Thursday evenings, 6-8:20PM at various locations. There are two modules – Winter (closed for 2019) and Summer, each covering different departments, and they can be taken in either order. Call 941-861-5000 for more information. Find out more by clicking here.
Sarasota Tiger Bay Club: The non-partisan group's mission is "to promote community understanding of current political and social issues through public discourse and exchange of ideas". Founded in the 1980's and with over 700 members and growing, the Club claims to appeal to "the powerful, the connected, the politically savvy…". Michael's on East hosts the lunch time meetings, with costs varying depending on who's speaking (the program with Jeffrey Toobin in February is already sold out at $75 per person). Annual membership is $100 for individuals, $150 per household, and there are varying-with-size rates for corporate groups. Joining the club is easy to do using the above link, and each event must be registered for separately in advance. Find out more by clicking here
To Learn About Nonprofits, Volunteering, and Giving: The Sarasota Community Foundation and the Gulf Coast Community Foundation both offer opportunities to learn about and connect with any of the hundreds of social service, educational, or cultural nonprofit organizations in our part of Florida. If you already have a fund at the Sarasota Community Foundation, call Jennifer at 941-955-3000 to participate in Third Thursday visits to selected local nonprofits, or call 941-486-4600 at the Gulf Coast Foundation to find out more about their lunch time speaker's program called Better Together. If arts are your thing, the Sarasota Cultural Alliance website is a good place to do some exploring; and for the complete list of all the nearby worthy causes you might consider supporting, go to The Giving Partner, find out more by clicking here.
There you have it – a good start on ways to get to know Sarasota, whether you've been here a month, a life time, or any amount of time in between. Let us know of others we should add to the list.
Judy Mower (464, La Bellasara) has provided this information for new and not so new residents of Golden Gate Point who would like to know more about the area.
Our thanks to Judy for volunteering to put this together for us!
GGPA BOARD MEETING SCHEDULE
GGPA Next Board Meeting, Tuesday, February 20 at 7:00, Alta Mer, 306 GGP. Any members who are interested in attending, please reply to goldengatepointassociation @gmail.com so tht we can have enough chairs available.
Landscaping Upgrades: Rocks, Trees, More
At GGPA's request, the City has replaced mulch in low lying areas. These large rocks are selected because they don't float away in high water. This change addresses the need to keep mulch away from areas that may occasionally flood and clog storm drains. Other sections of the GGP streetscape in low lying areas are scheduled for rocks as well. Other improvements include new trees replacing the ones felled during Irma, as well as a new doggie bag station.
Golden Gate Point Association Cleans up GGP
Golden Gate Point came through pretty well with Irma-- there were trees and vegetation lost but thankfully, no major structural damage was reported.
Two mature trees on the west side of GGP near 306 came down and the City came by almost immediately after the storm and removed them and vegetation which posed a threat to safe travel. We appreciate the City's prompt response to make GGP safe and passable so soon after the hurricane.
This left substantial additional downed vegetation along the streetscape. GGP has three storm drains-- one by 188 and 205, another by 306, and a third by 550. All three were blocked by substantial piles of vegetation.
The City presently serves as the landscaping contractor for GGP. The GGPA Board asked when the City could expect a second pass to remove the vegetation particularly over the three storm drains on GGP. The GGPA Board has worked hard with the County to have the storm drains cleaned; recently the County spent about a week cleaning the mussels from the storm drain outflows on GGP as well as the one nearby on Gulfstream.
The City replied that no area would receive a second pass until at least the end of October. It was then that the GGPA Board considered taking action.
An opportunity for a fast cleanup was presented by Military Cut, a company owned by GGPA member, Sarah Garrison, who lives at 420 GGP. GGPA's Board retained Military Cut and the work was done this past Wednesday and Thursday. Military Cut removed the storm debris blocking the three storm drains, and cleaned up the hurricane debris left on the rest of the streetscape. They did a terrific job and saved our area from waiting at least a few more weeks for the second cleanup and the risk of substantial flooding should we get rain.
Military Cut's mission is provide veterans with career path training that can be applied to the civilian workforce. Their goal is to help vets to use the skills they developed in the military--leadership, discipline and reliability-- and learn how to apply to those skills to working in and managing a business in the private sector. Their employees become salaried and are offered profit sharing plans. You can read more about Military Cut here.
2017 Annual Meeting Program about Special Taxing District on Members' Page
For those who weren't able to attend the Annual Meeting in January, 2017, but would like to read about the city-GGP special taxing district and landscaping issues, please see Member's Page, where archival materials are stored.
Members - Access the Member Page which has More information
The Member Page has the minutes of meetings, a copy of each email sent to members, formation documents, a roster of members, past articles of interest and more.
Remember that to log into the Member Page you'll need the member password.
Please contact us at goldengatepointassociation@gmail.com if you'd like to have it sent to you.
Bob Sohol's Drone Photos
Events
Sarasota Bay Watch and GGPA members Clean up East Side of GGP, Beach and Mangroves
Sarasota Bay Watch conducted a clean up on February 23 on the east side of GGP. It included the area underwater near 660, 650 and Pier 550 and along the beach and mangroves along the waterfront in front of The Vue. GGPA members Justin Bloom and Cindy Taliaferro assisted divers as they pulled up 217 pounds of trash and 68 pounds of recycling. There were 24 pounds of fishing equipment trash and 38 pounds of fishing ropes and lines. Crabs and frog fish caught in abandoned traps were set free.
Among the miscellaneous items brought up were a car tire, baseball caps, boat rigging, glasses, shoes, buckets, canvas cover, cell phones, fenders, a pipe, a 25 foot rain gutter, rubber hoses and trashcan lid.
Cindy Taliaferro heads up the GGPA environmental committee along with Justin Bloom, who is on the board of Suncoast Waterkeepers. The environmental committee looks forward to another Sarasota Bay Watch clean up in the future in another area of GGP
FALL MEET AND GREET
About 50 GGPA members turned out for a Meet and Greet on Monday October 22, 2018 at Harbor House West (226 GGP). Everyone had a good time and music by Wayne DeLair added to the fun. Our Thanks to Nann Parr and Dejon Coffin for hosting, and to Harbor House West for sharing their spectacular waterfront. Photos are below and more can be found in the Photo section of this website.
FDOT HOLDS PULIC INFORMATION ABOUT GULFSTREAM AND US 41 ROUNDABOUT
FDOT held a public information at the Sarasota Municipal Auditorium. GGPA member Eric Mower reported that there was no presentation, but rather two duplicate sets of easels displaying roundabout information visuals on foam boards plus one video playing on a laptop displaying an animated presentation of the HAWK pedestrian control system. Beyond that there were a dozen or so FDOT representatives available for questions and answers.
The drawing of the new roundabout as it is presently conceived.
Eric was told that the project will be under development through summer of this year, and construction is slated to begin late in 2019.
A chart compared the roundabout versus a traffic lighted intersection, indicating that there are fewer accidents in a roundabout with better traffic flow.
Plans for the development of the roundabout are also being considered carefully by others in our vicinity. Roger Barry, a former Professor of Urban Planning, lives on Sunset and has had extensive conversations with FDOT and City of Sarasota traffic engineers. Roger advised us: "I came away convinced that the construction of this roundabout will significantly improve the safety of pedestrian crossings at this intersection. This roundabout will have marked crosswalks with pedestrian safety islands and for two lane crossings HAWK beacons (High-intensity Activated crosswalk beacon). HAWK beacons allowed protected pedestrian crossings, stopping road traffic only as needed.
The national research on roundabouts by the Federal Highway Administration has found a 30 to 40 percent reduction in pedestrian crashes as well as a significant reduction in fatal crashes and severity of injuries because of the slower traffic speeds.
Roundabouts are safer for bicyclist with a 10 percent reduction in bicycle crashes. Bicycles can use the roundabouts like pedestrians do, or if they are accomplished bicyclists they can use them like a regular vehicle claiming their space in mid-lane of the road.

While roundabouts improve pedestrian access and safety as compared to red light intersections their greatest benefit is the reduction of fatal crashes by 90 percent and injury crashes by 75 percent while increasing intersection traffic capacity from 30 to 50 percent. They have other benefits like operating during and after hurricanes, being less costly to maintain and enhance the movement and response times of emergency service vehicles (EMS and Fire)."
Roger explains that the roundabout will have marked crosswalks with pedestrian safety islands and for two lane crossings HAWK beacons (High-intensity Activated crosswalk beacon). HAWK beacons allowed protected pedestrian crossings, stopping road traffic only as needed. You can get more information about the HAWK beacon by clicking here.
You can access the links of the FDOT video on using roundabouts by clicking here.
Many on GGP have concerns about how a roundabout will be handled by tourists who are new to Sarasota and not sure of where they are going and certainly won't t have the background to understand HAWK lights or roundabouts in general. Eric raised that that issue on behalf of the GGPA with an FDOT representative, who acknowledged that it is an issue. The FDOT representative did not give Eric a proposed solution for that issue.
Roger pointed out that in Europe roundabout training starts in school as part of their drivers education program, and that we have a long way to go here. He and his wife are working on different ways to educate local residents on how to use the roundabout.
Our thanks to Eric for attending the Public Information meeting on the GGPA's behalf and expressing the concerns about walkability and bicycle access to downtown, as well as Roger's insight into this issue..
CITY OF SARASOTA INTERACTIVE DEVELOPMENT MAP
t's not hard to spot cranes when looking in any direction downtown. In addition to the projects you can see, there are many in the planning stages in the downtown area. Information about these projects is now readily available in one convenient place on a new city Interactive Map. The interactive map shows the location of projects. When you click on the location, basic information in a scroll down list appears about each project, such as the number of units, estimated cost, projected completion date, developer and architect.
For example, you will find that The Embassy Suites on the corner of Fruitville and Tamiami is being developed by JEBCO Ventures, is slated for 18 stories and 180 hotel rooms, and should be completed by spring or summer. It will tell you that the Ovation Hotel will have 164 rooms, is estimated to cost $13 million, and has a projected opening this spring. The estimated cost of the Vue is $120,712,600 and CO's are being issued now for individual units. A CO was issued for the Jewel in August 1, 2017. All of this information is available elsewhere; what's new about this interactive map is that it is an easy way to access it and the city will be updating it.
The Interactive Map shows two projects currently slated for Golden Gate Point, 609 (The Pearl) for 8 units and 680 (the corner of Fruitville and the entrance to GGP) for 15 units. Clicking on the link gives the status of the each those projects' development.
Link to the Interactive Map by Clicking Here
Help Keep Storm Drains Working -Keep Clippings Off of Street and Out of Storm Drains
Sometimes lawn service companies blow leaves and clippings into the street or onto neighbors' properties, which often enter the storm drains. This can clog drains and lead to flooding. Please be sure to make your lawn service provider pick up clippings, or put them safely on your property somewhere. Explain to them that leaving them in the street puts everyone (and our cars) at risk.
GGPA and STORM DRAINAGE
GPA experienced flooding in late March and June this year. Flooding on GGPA may occur when tides are high and there is heavy rain.
There are "Spring Tides" when the sun, moon and earth are all aligned during a full or new moon. There are also "King Tides" in late May, when US coastal areas experience very high tides, again when the moon is aligned with the earth and sun, and is closest to the earth. When a Spring Tide and King Tide comes together, it makes matters worse.
If this all sounds too much like the Age of Aquarius, let's just say that when times of high tide coincide with times of substantial rain, GGP may experience flooding. Flooding this year occurred more on the west side of GGP nearer to new construction.
GGPA's Board of Directors have begun exploring how this very occasional but troublesome problem can be addressed.
GGPA's Board asked GGPA member, Cindy Taliaferro, Toscano (205) if she could help. Cindy has experience in Sarasota waterway matters (See Cindy's bio in Member Spotlight).
Cindy contacted Harold Roebuck, County Stormwater Operations Manager II, who met Cindy and GGPA Treasurer Denise Watermeier on GGPA a few weeks ago. Mr. Roebuck inspected the storm drains and discussed the issues relating to flooding.
Apparently, One88 (188) and Toscano (205) GGP are at the low point of GGP. Storm sewers are at water level, and the increase in impervious area due to new construction on the west side of GGP has increased the outflow requirement. High tides negatively affect the ability to move water into the bay. The City enforces the Codes and is responsible for installation of storm sewers and the county maintains the existing lines
Mr. Roebuck scheduled a cleaning of the three GGP storm sewers with a truck and vacuum line to suck the entire length of the two affected storm sewers, the closest to One 88 and Alta Mer (306) GGP. There was silt accumulation in the 306 GGP outflow.
The outflows also have substantial barnacle growth which limit the amount of outflow at times of high rain. The County will be scheduling the removal of barnacles on the outflows shortly.
Once the outflows are addressed, we will see to what extent this will mitigate the water during heavy rains. The GGPA will consider what steps will need to be taken to reduce the likelihood of the storm drains becoming clogged. Mr. Roebuck has advised that floating debris will need to be removed in areas near storm sewers. This includes mulch and other materials, such as papers and recycling materials, that will float.
GGPA will continue its efforts to keep these storm drains clear.
What you can do about OCCASIONAL flooding on GGP
V curbs or V drains are the concrete alleys between the sidewalk and road surface.
These alleys are intended to control and direct the flow of water during rains. When trash and recycle receptacles are placed on top of the V drains, water is diverted intothe roadway and it swells and pools creating a pond effect. Water needs velocity and pressureof the continuous force of the flow to push the rainwater into the bay. Obstructing this flow causes the water to collect and swell into the vegetation, causing floating debris, which then plugs the drains as the water slowly recedes.
This means they need to be on the driveway or in the street, off of the drains. If they are smaller bins, they need to be covered.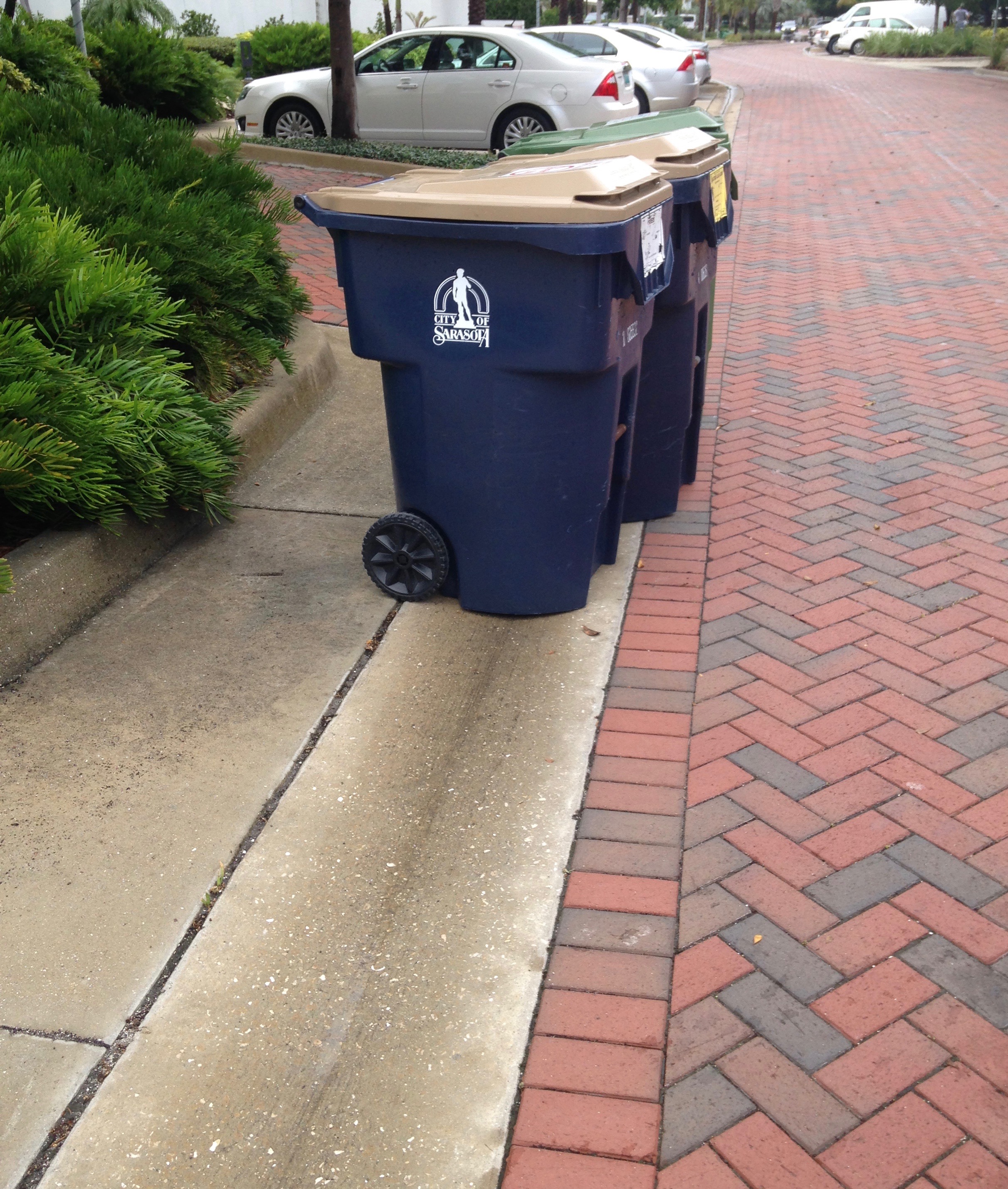 Water needs to run down this concrete channel- don't block the V-drain!
Make sure that your trash and recycling receptacles do not block the water. Put them on your driveway or outside of the channel so that the water's velocity can push eh water into the drains and bay.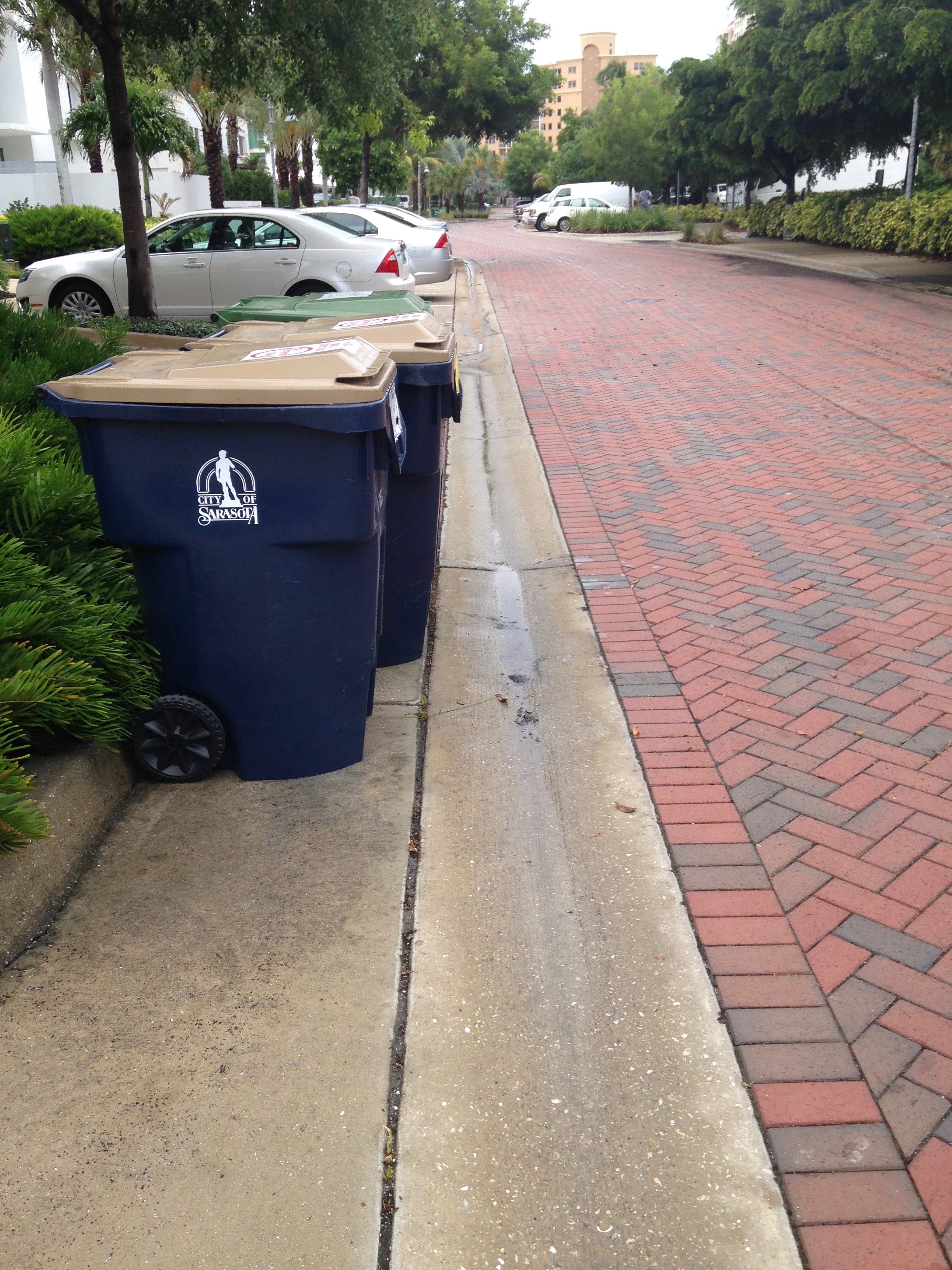 Here the receptacles are outside the V-drain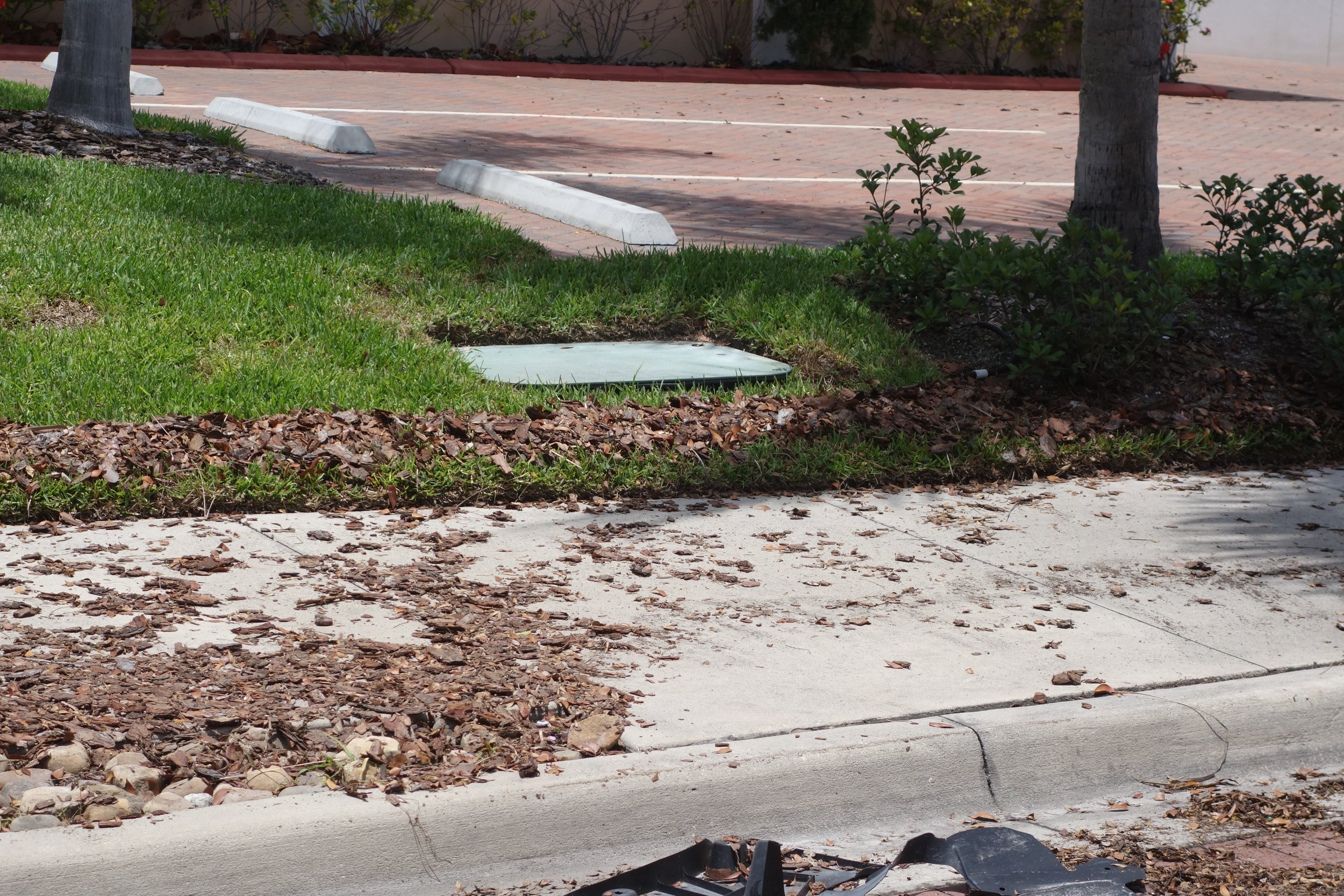 Remove as much floating debris from your landscaping
Don't add mulch near the street or where it could float away in high winds or a heavy rain-- use rocks, grass, or ground cover instead where possible.
You will see him in the photo with Tom Dowdy. Tom and Maria have recently moved into Vista Bay, and we welcome them and their new puppy too!
Meet and Greets- See Photos on Photo Page